Chambersburg CC is excited to announce the launch of the Operation 36 Golf Coaching Program Fall Semester in our golf academy - beginning September 2017. The program is designed to progress golfers of all ages and abilities (juniors, ladies, men) towards shooting par (score of 36) or better for 9 holes! We train in groups and work together to improve our games while having a lot of fun in the process.
Each participant can enroll in 3 types of programs; Academy Classes, Operation 36 Matches and Supervised Practice. The Center of the Program works around the Operation 36 Matches where you challenge yourself to shoot the score of 36 from different yardages on the golf course.
The program has a 6 level roadmap which contains 72 objectives that coaches will help you achieve in academy classes on a weekly basis. All participants are issued a profile in our Operation 36 Mobile App Community where you can view your objectives, log golf actions, track your stats/progress, and encourage your friends in a social activity feed.
PERSONAL PROGRAM ORIENTATIONS:
We will be hosting personal program orientations to explain further and go over details such as schedules and pricing. Reply to this email directly, or This email address is being protected from spambots. You need JavaScript enabled to view it. to reserve your one on one orientation today. Orientations can be held over the phone or in person at the Club.

Fall 2017 Class Schedule
Tuesday (14-18): 4:30 pm
Wednesday (11-13): 4:30 pm
Thursday (7-10): 4:30 pm
Saturday (All ages): 10 am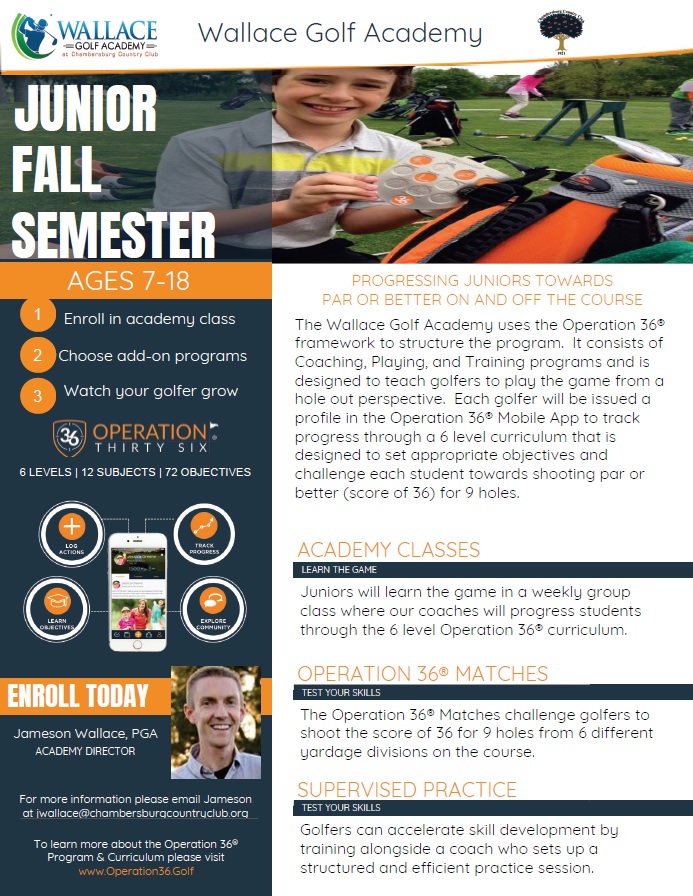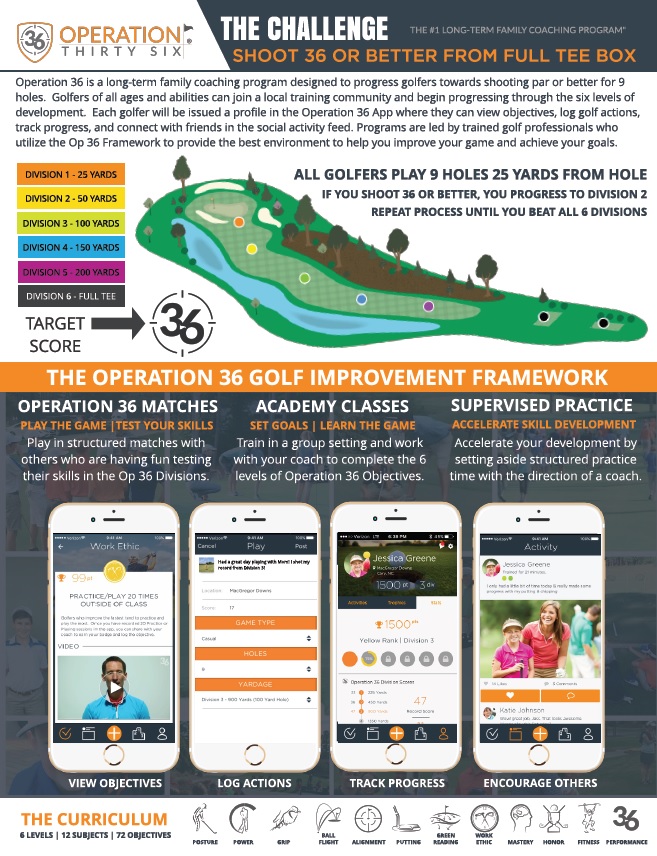 ---
Junior Golf Club Rental Program
- Season long rental of properly fitted golf clubs for your junior
- You keep, use and enjoy the Clubs for the length of the golf season
- Return the clubs at the end of the season and plan to rent for the following year
- Non Club members are eligible but required to pay $100 deposit (returned when the clubs are returned at the end of the season)
Rental pricing
Six month rental
US Kids Ultralight Set
Child Height: Rental Cost
- 39" - $45 (3 club)
- 42" - $65 (4 club)
- 45" - $75 (5 club)
- 48" - $80 (5 club)
- 51" - $85 (6 club)
- 54" - $90 (7 club)
- 57" - $95 (7 club)
- 60" - $100 (7 club)
*all sets include a stand bag
---
Junior Camps
These camps are designed for juniors ages 5-12 & are a great introduction to the game of golf. We encourage all juniors with an interest in golf to sign up. Clubs & equipment can be provided upon request Cost is $115 per child, per week with lunch provided each day.
2017 Junior Camp Dates:
Week 1: June 13-15, 2017
Week 2: June 27-29, 2017
Week 3: July 11-13, 2017
Week 4: August 8-10, 2017
Junior Camp Info:

Junior_Golf_Camp_Program_2017_Information.pdf
---